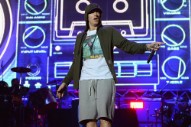 We will go join a secret gulch and stop the music engine of the world. No one will ever pay them to live on that particular fringe. Trust me, you know better than they do. Surprisingly, there are some advantages to this arrangement. My favorites for what it is worth: Why is that people who like techno music does not like progressive rock music in general?
But in music we have a convenient and perpetually guilty scapegoat, who, by his persistent ineptness, helps to defuse possible hard feelings between musicians by printing opinions so incredibly stupid that anything anyone else says will look good by comparison.
Let's sack all rock critics and replace them with cartoons
Many who did study an instrument as a child set it down years ago to focus on a non-music related career. They will promote music they like and, hopefully, their audiences will get to hear your work. They either used to play, play in a garage band, pretend to play, or quit piano lessons when they were eleven. Updated Mar 1, Or should we be paying them, for sending us the traffic we slurp up like water in the desert?